Sign up for
Uplift You
Resources & updates
to support your spirit!
Name:

Email:

Title:

Inspiring YOU
so you can inspire
& uplift others!
A More Effective & Affordable Outplacement Program
Help Your Employees Find
a New Job Faster
Companies dealing with layoffs and downsized employees are looking for better ways to help their employee's transition into a new job. Re-THINK! is a self-directed Outplacement Program. Our Re-THINK! Job Search Program helps people literally re-think their job search process.
For a disenfranchised and discouraged job seeker in today's depressed economy, Donna is a bright light offering renewed hope and concrete methods to distinguish oneself from the masses. Donna provides the key to turnaround any organization or individual.
Claudia
– Re-THINK! Participant, Office Manager
FEATURED GUEST



Richard N. Bolles, Author

"What Color is Your Parachute?"
The best way to learn the importance of using effective job search strategies is from the legend himself, Richard Bolles. He is the author of, "What Color is your Parachute"; the most popular career-planning and job-hunting book in the world. This book has sold 10 million copies in 20 languages.
Richard Bolles has guided millions in their quest for not only the right job but also the right life. He first published the book in 1970, and he has revised, updated or rewritten this world-famous book every year. Through this book Richard has helped people adapt to tremendous economic and social change and it remains the "enduring job search bible," according to Business Week magazine.
Participants get to listen in as I ask Richard, our featured guest, questions on important issues on the minds of today's job seekers in our session on "Job Search Strategy".
FEATURED GUEST


Dr. Ivan Misner, Author

"Networking Like a Pro"
I have the pleasure of announcing a very special guest who participated in the Re-THINK! Program to share his wisdom on networking - Dr. Ivan Misner.
Dr. Ivan Misner is the Founder and Chairman of BNI, the world's largest business networking organization. Called the "Father of Modern Networking," he has written eleven books including three New York Times bestsellers. His newest book is called "Networking Like a Pro: Turning Contacts into Connections."
Participants get an inside seat as I interview Dr. Misner on his top insights and strategies for being a master networker - you'll hear his TOP strategies for using networking to get interviews and reaching people of influence to create a strong network in our session on "Expanding Your Network".
You'll learn networking techniques to get your next job, leverage your contacts, and much more.
Don't miss this chance to have access to one of the foremost worldwide networking experts.
Request a PDF of our Outplacement Program and Services.
See our outplacement program

Find out more about us
Listen to Donna talk about the
Re-THINK! Job Search Program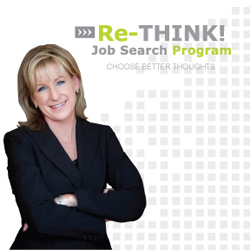 Alternative content
Click to Play