In The Current Job Market, The Odds Are Stacked Against You…
…UNLESS You Know The Secrets to Success!
Dear Worried Job Seeker:
Are you finding endless frustrations and little to no results with your job search? I hear from people everyday who are struggling with feelings of aimlessness…lack of direction…no control…serious doubts of self confidence….sleepless nights…and stressed out relationships.
Add all of these together and it's no wonder you are worried, frustrated, and perhaps even feeling desperate.
I completely understand and believe that I can help eliminate these concerns and get you back on your feet very quickly.
More on that in just as moment as I want to assure you that what you are going through is a natural response to the mountain of obstacles that you have to navigate through on your job search and the last thing you need to be doing is blaming yourself.
That is one toleration that you cannot afford to continue. It's not your fault, but it is your responsibility to fix it.
So, stop right now, stop blaming yourself, stop feeling like a victim and start taking control of your future and by the time you get to the bottom of this page, I'll show you how.
Let's face it…now's the time for demonstrating self-reliance, and for doing everything you can to accelerate the actions you must take to get results on your job search.
In this economy, many talented people like yourself are struggling to find an opportunity and lack the mindset to succeed against the challenges and that mountain of obstacles in today's job market.
I've trained and worked with thousands of people, helping them to overcome those obstacles that have held them back. I am passionate about helping you too.
My name is Donna Fedor and, with 20 years of experience in both recruiting and human resources I know exactly what companies and recruiters are looking for.
I'll show you how to put your best foot forward and land that elusive job much more quickly. How? With powerful job-hunting strategies you won't find anywhere else.
And that's just one piece of the puzzle. Because to get the job of your dreams, the proper mindset is usually the difference between success and failure.
This program will help you uncover the thoughts that are sabotaging your success, transform your self-confidence and self-image, and create a whole new YOU.
The result? MORE opportunities, MORE interviews, and MORE job offers!

How do you know if this program is for you?

If you:
Worry about standing out in a sea of candidates…
Spin your wheels trying things that never work…
Feel discouraged about your qualifications and skills…
Question your ability to network and interview…
Struggle with the idea of letting your family down…
Feel panicked, "frozen", or even depressed…
Realize a negative mindset is a huge obstacle…
If you answered yes to just one these question and by the way, based on the people from all over the country that we do business with, they've answered yes to three or more of them.
If that is the case, I've got good news for you.

...you're about to discover a unique solution to
get you moving in the right direction – and headed straight for the right job.
Introducing…the "one-of-a-kind" program for breaking through all your job-hunting challenges!
Raving Testimonials

"The Re-THINK! program is a quality-based toolbox that becomes a part of your job search and ultimately gives you forward motion with new thoughts, attitudes, and positivity…It's been instrumental in helping me become truly aware of changing my approach in my job search and in life."
--Pam W.

"Donna's enthusiasm and charisma are captivating, and her message is powerfully magnetic, drawing me towards authoring a better vision for my improved future."
--Tom T.

"Donna Fedor is an inspiration and positive influence to anyone who has embarked on this program…There are times in everyone's life when we get stuck in the same patterns, trying to do more but not achieving our goals. It is only through the awesome Re-THINK! program that I have realized that the only thing that limits us in achieving our full potential is ourselves."
--Gerri D.

"For people who tend to think negatively, and know it is not the best mindset, the Re-THINK! program helps you adapt a better mindset that promotes your own goals. Donna's upbeat spirit makes it fun, and a great experience."
--Tim I.

"The Re-THINK! program has been a very powerful agent for change in my life. The program is so easy to use. It has the CDs, workbook, coaching calls, and connects people together as accountability partners. It has been fantastic for me. I landed a new job! I highly recommend the whole Re-THINK! system."
--Steven B.
I fell out of sync with what it takes to land a job. My self-esteem
was at an all-time low. Finding Donna completely reshaped my job search - but more surprisingly, my self-image and direction. I learned how to maintain a positive unshakeable driving force.
Not only did I land the perfect job for me, but in the perfect location with the perfect salary, benefits and hours. I will take this guidance and training with me through my life as the tools I acquired are not only applicable to my job search, but to attaining my goals and maintaining my happiness.
I hope you give yourself the gift of the Re-THINK! program. You're worth it!
--Mary L.
It's the Re-THINK! Job Search Program, created by executive recruiter and coach, Donna Fedor, who's spent two decades showing job hunters how to find their perfect destination.
This incredible 10-CD program is packed with breakthrough strategies to get you out of the doldrums…reconnect you with your passion and purpose…and take effective and inspiring actions to land the job you want, much quicker than you'd expect.
You'll discover how to:
Identify the biggest barriers to your job-hunting success – and put them to rest FOR GOOD…
Overcome self-doubt, build self-confidence, and expand your self-image…
Ignore the opportunities that AREN'T there – and start focusing on the ones that are…
Create a structured job-hunting plan – one that's tailored to your own strengths for fast, tangible results…
Stop wasting 90% of your time on job-hunting strategies that don't work for ANYBODY anymore…
Join a strong community of like-minded job seekers to give you support and encouragement in your process…
Improve your day to day productivity on your job search with a Re-THINK! Accountability Partner.
Dramatically upgrade your networking and interview skills – so it's like second nature…
Reprogram your brain to give the right instructions…
Transform yourself into the perfect candidate – one that companies or recruiters will WANT TO HIRE…
"The Re-THINK! Job Search Program has made a huge impact in the way I presented myself and prepared me

for
two very important interviews…I was able to let go of the negative self-talk and went in with a positive attitude
and ;"wowed" them. I was hired! Thank you, Donna!"
--Jayne W.
"The Re-THINK! program has helped me tremendously in my job search. Today's job market is tougher than


ever and you need the extra edge in order to rise above the competition. This self-paced course including
the workbook and CDs help guide you in discovering who you are, what you are capable of, and what is holding
you back from achieving your goals. I highly recommend this program to everyone."
--Marc S.
I know exactly what works to generate results in your job search, I'm talking about achieving LIFE CHANGING RESULTS faster and easier than most people think is possible.

And I also know the bad habits and procrastination that can bring a job search to a grinding halt.
Ready to become one of the most empowered and motivated
job seekers on the planet?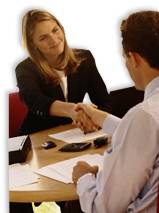 "The Re-THINK! Job Search Program is the best value for any serious job searcher.


It includes the triple crown of content, accountability and support. It packs high impact
"how to" content onto the CDs and helps the job seeker implement with detailed
exercises. Weekly power calls keep job seekers focused and motivated as
well as working with an accountability partner. This is a terrific format that produces
quick activity and results. I landed a great job using the Re-THINK! program."
--Nell L.
"It's the perfect recipe.... The Re-THINK! program turns job seekers into job finders.


Participants who apply themselves can land their dream job, even in the
throes of a really rotten economy. I did; I'm returning to the corporate world at
my #1 choice company after a 5-year hiatus"
--Dana G.
The right actions can change your job status
and your life IMMEDIATELY!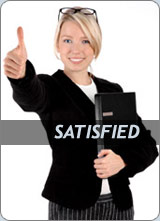 Don't waste anymore of precious energy searching for jobs in all the wrong ways – and costing yourself days or even months.
Invest in yourself and in your future with the Re-THINK! Job Search Program!
What better way to save time and money than to get a new job as quick as possible and start your income flowing in again?
The Re-THINK! Job Search Program is valued at $997.00. But given the current state of the economy,
I'm offering you the entire program for – three easy payments of $87!
Not only that, but you also get $450.00 worth of bonuses, when you sign up today, absolutely FREE!
HERE ARE YOUR FREE BONUSES:

Bonus #1 – How to Make Money with Your Talent
Audio CD: Take a few minutes to consider how you can trade your talent for money while you are
searching for a new job. Great ideas you've never thought of by using the skills you already have.

Bonus #2 – How to Win the Mind Game of Health & Fitness
Audio CD: Now more than ever, it is important to take care of how you look and feel.
Boost your self-image immediately by putting a few of these fun practices into your daily routine.
Bonus #3 – Breaking through the Confidence Barrier
Audio MP3: If it feels like you "lost your self confidence", this session will immediate give you
the reassurance that you are the one in control. You can and will transform the way you look at
yourself forever.
Bonus #4 – "Live" Interview Coaching Session
Audio MP3: Listen to a "live" interview prep coaching session like nothing you have ever heard
before. You will learn to instantly shift your energy and build rapport for your next interview. AND
this works for phone interviews too!
Bonus #5 – Interview Prep Scripting
PDF Worksheet: As a support to the "Live" Interview coaching session, you will receive a worksheet
to "script" out your interview prep or should I say rehearsal. Imagine auditioning for the part and
winning the leading role!
Bonus #6 – Enjoy a 30 60 day complimentary pass in the Re-THINK! Membership program
Join the most motivated job seekers on the planet for a free month of powerful weekly group coaching
calls. Plus you will have access to an exclusive "members only" website. Join the Re-THINK!
member's forum and participate in Mock Interviews, find an Accountability Partner, and share your
weekly intentions with the Re-THINK! community. You will discover and connect with the most positive,
supportive and action oriented job search support group anywhere. Enjoy your 30 60 day complimentary pass in
the Re-THINK! membership program. The cost of the membership is only $19.95 per month. To cancel the
monthly membership, contact support@resultsthinking.com.
Try the Re-THINK! Program
for 4 WEEKS with ZERO RISK!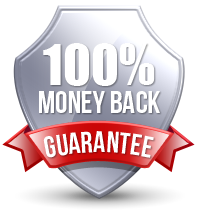 I'm so confident that the Re-THINK! Job Search Program will make a huge impact in your job search and in your life that I'm willing to back it up with my own money.

But I want to take it further than that. I want you to understand that this is a completely no-risk deal.

So I'm going to let you check it out totally without risk, for 4 weeks.

That way all the risk is on me and you get to test the results for yourself. Check it out for 4 weeks and if you're at all unhappy – for ANY reason – I'll refund your money. No questions, no excuses. You just get a full and prompt refund, no hard feelings.

You are now less than three minutes away from fast-tracking your job search and gaining control of your future WITHOUT costing you a fortune to get it.
The Re-THINK! Job Search Program is a proven formula for landing the job you want and for satisfying what you need in your new career.
Individually, the elements of the program are practically priceless. And you get all of them – for the ridiculously low price of three easy payments of $87, or just one low payment of only $261.00.
But you have to act fast to get in on this special offer.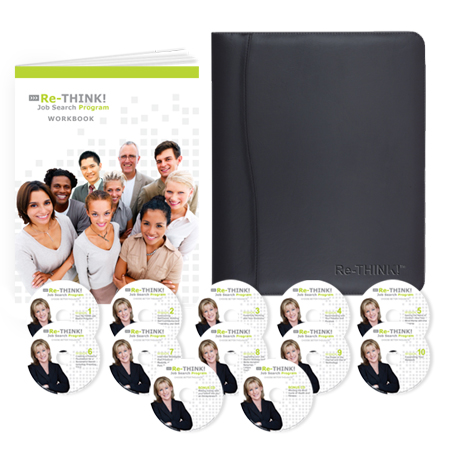 If you prefer to purchase by phone, please call us at
408-365-0500 and we'll be glad to assist you.

"I've been amazed at how quickly I've seen results from deploying strategies outlined in the Re-THINK! Program.Whoever is serious about wanting to improve the quality of their life by changing the quality of their thoughts needs to enroll NOW! (and when you enroll) be prepared to start living your life to the max; to be willing to find out what really makes "you" unique, to embrace those qualities, and to maximize these traits in all areas of your life, from this day forward!"
--Angel D.


"The Re-THINK! program is a truly excellent way to get focus in everything you do. Working with Donna, her insights,

her help and her unique positive outlook really makes a difference, every day! I found my strength! Using the Re-THINK! job search process I started to get interviews and now I have a NEW JOB!"
-- Lucia V.
Thousands of people have used my strategies to get their next job. You're next! So why wait when you could be on the path to the perfect job?
Get my Re-THINK! Job Search Program today – and take the first and most important step to a future filled with consistent income – and unlimited possibility. The real YOU is waiting to be unleashed!
Sincerely,
Donna Fedor
P.S. If you know this program is going to make a difference for you and you're still on the fence, I want to offer you some straight coaching. It's important to take a stand on one side of the fence or the other because that level of indecision and uncertainty will just perpetuate another day where you don't look for your job, where you don't market yourself, and you don't take the actions necessary to move yourself and your family forward. Take action TODAY! You will be glad that you did.
© 2011 All Rights Reserved