Sign up for
Uplift You
Resources & updates
to support your spirit!
Name:

Email:

Title:

Inspiring YOU
so you can inspire
& uplift others!
How Employers
Benefit
Company downsizings are stressful for everyone. Your stakeholders are watching how you handle workforce reduction. As a company, you want to do the best you can for your downsized employees. The Re-THINK outplacement program is a cost-effective career transition tool that benefits employers and employees alike.
Help your departing employees get better
results in their job search
Help them transition to another job more quickly.
Pay less unemployment since employees find work sooner.
Employees are less likely to linger on health plans via
COBRA, reducing claims and exposure.
A fraction of the cost of other outplacement
programs and services:
Starting at just $497.00 for a full 12 months of support
Many companies are paying $2K - $10K+ per employee in
outplacement programs and career transition management services.
This product is only $497 per employee.
It provides quick ROI when considering the potential
unemployment insurance benefits decrease and goodwill
for survivors and your community.
If you couldn't afford other outplacement programs or
services, you can afford the Re-THINK! Outplacement Program.
Reduce liability/improve morale
Laid-off employees are upset, angry and may even threaten third party action such as workers' comp stress claims, age discrimination, etc.
The Re-THINK! Career Transition Program focuses downsized employees on future success rather than perceived past "wrongs."
Demonstrate to remaining employees, "survivors," that your company has compassion and interest in helping departing employees find new jobs. This helps re-build goodwill, within and outside your company.
Provide highly effective career transition
training with proven results
This program is a self-paced audio program including a workbook and virtual support group coaching sessions, designed and taught by sought after training expert Donna Fedor.
Donna has over 20 years in coaching, career counseling, recruiting, training and sales experience and knows what recruiters look for.
Donna taps into many industry experts in the job search and outplacement field for up-to-date tactics, technology and tips for today's job seeker.
Help your people through a difficult time
This program helps departing employees cope with change and to get past the upset/shock more effectively.
Downsized employees can conduct their job search from a place of confidence rather then worry, concern and fear.
Participants claim these sessions are life-altering with lasting effects beyond just this career transition period. See our Rave Reviews from program participants.
High participation rate
Some employees don't take advantage of traditional outplacement programs.
They may not feel it is useful. This Career Transition Program gets Rave Reviews and has a high success rate because it is self-directed and includes virtual group support.
They may not be ready. Most plans are offered during the first 30 days after separation. Many people are just starting to recover from the shock, anger, and numbness. Others take advantage of time off to travel. With this CD course, your downsized employees can start when they're truly ready and motivated. In addition, unlike other courses, our Career Transition Program addresses the mental state that's often paralyzing downsized employees or sabotaging their job search.
They find the feature of privacy and anonymity preferable.
Long-term help and support
This is not a one-time event where people quickly forget the majority of what they've learned in a group workshop setting.
Laid off employees can use the Re-THINK! Job Search Program forever. Users listen to this valuable material over and over. We often hear stories like this: "I have to tell you that I listen and re-listen to your audio program and you have become my daily personal coach."
Laid off employees can share the program with other family or friends.
The weekly Re-THINK! Power Calls are an added bonus for laid off employees who want to connect and benefit from weekly inspiration and support.
The Re-THINK! Web Connection is a special place for Re-THINK! Program Members who can access updated group coaching calls, the latest job search guidance including new lessons, audio recordings, videos, accountability and their own Re-THINK! Web Forum where job seekers connect, inspire, encourage, and support each other as a community.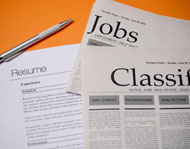 See how employees benefit »
Why choose Re-THINK? »
See what's included in the Re-THINK! Outplacement Program »